Live-Diskussion zu Software-Architektur im Stream.
Einmal in der Woche diskutiert Eberhard Wolff Software-Architektur im Live-Stream auf YouTube und Twitch - oft zusammen mit einem Gast. Zuschauer können über den Twitch- und YouTube-Chat, Twitter und das Formular unten mitdiskutieren oder Fragen stellen.
Sketchnote-Buch
Dieses Buch enthält eine Sammlung von Sketchnotes und Kommentare zu 36 verschiedenen Folgen. So können Leser:innen sich über das Wissen aus "Software Architektur im Stream" erschließen, ohne dafür eine Vielzahl von Video anzuschauen.
Das Buch ist kostenlos als PDF bei Leanpub erhältlich. Außerdem gibt es die gedruckte Version bei Amazon als Hardcover mit glattem Papier oder als Softcover. Gerade die gedruckten Bücher laden zum Durchblättern und Schmökern ein.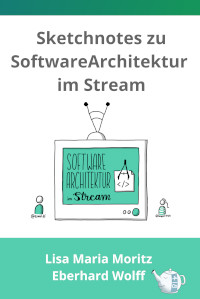 Mehr Informationen zum Buch
Monday 2021-09-27 Rebecca Parsons about Evolutionary Architecture
The architecture of a system has to change over time. In this episode, we will discuss evolutionary architecture and why it is important. We will talk about patterns and principles to build architectures that stand the test of time. Dr Rebecca Parsons co-authored of a book about evolutionary architecture and has extensive experience with application development. Before becoming the CTO for Thoughtworks, she worked as an assistant professor at the University of Central Florida and as Director's Post Doctoral Fellow at Los Alamos National Laboratory.
Stream
In this Stream, you will hear and see Rebecca and Eberhard.
Sketchnote Stream
In this Stream, you will see Lisa Moritz doing her sketchnote and hear Rebecca and Eberhard.
Fragen & Diskussion
Gerne im Twitch-Chat oder YouTube-Chat, per Twitter oder anonym hier:
Links
https://www.youtube.com/user/ewolff/
Lizenz
Creative Commons Attribution-Sharealike 3.0 Unported License
Attributiert werden sollen:
Für Videos Eberhard Wolff oder Lisa Maria Moritz und die jeweiligen Interviewten

Für Sketchnotes Lisa Maria Moritz