Live-Diskussion zu Software-Architektur im Stream.
Einmal in der Woche diskutiert Eberhard Wolff oder Lisa Moritz Software-Architektur im Live-Stream auf YouTube und Twitch - oft zusammen mit einem Gast. Zuschauer können über den Twitch- und YouTube-Chat, Twitter und das Formular unten mitdiskutieren oder Fragen stellen.
Next Episode: Friday, September 30th Encouraging Engineering Excellence with Johannes Mainusch and Robert Albrecht
Are you already a 10-star expert in Vue.js or Flutter or TypeScript, or do you still struggle at level 2? And what did your company do for your advance? And why would you even care about care levels?
While companies are great at ensuring the company's success, the development of people is often not properly described and implemented. Together with some experts from different companies, we started to formalize how to grow experts and knowledge in a culture of expert work and put the results in a creative commons licensed document. In this episode, Johannes Mainusch, Robert Albrecht, and Eberhard Wolff will talk about skills, skill-levels, personal development paths, and salaries.
Live Stream
Fragen & Diskussion / Question & Discussion
Fragen und Diskussion gerne im Twitch-Chat oder YouTube-Chat, per Twitter, Mastodon oder anonym hier:
Questions and discussion are welcome in the Twitch chat or the YouTube chat, via Twitter, Mastodon, or anonymously here:
Sketchnote-Buch
Dieses Buch enthält eine Sammlung von Sketchnotes und Kommentare zu 36 verschiedenen Folgen. So können Leser:innen sich über das Wissen aus "Software Architektur im Stream" erschließen, ohne dafür eine Vielzahl von Video anzuschauen.
Das Buch ist kostenlos als PDF bei Leanpub erhältlich. Außerdem gibt es die gedruckte Version bei Amazon als Hardcover mit glattem Papier oder als Softcover. Gerade die gedruckten Bücher laden zum Durchblättern und Schmökern ein.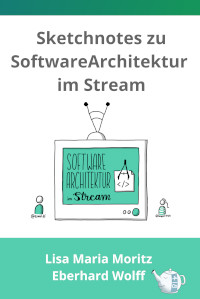 Mehr Informationen zum Buch
Links
Lizenz
Creative Commons Attribution-Sharealike 3.0 Unported License
Attributiert werden sollen:
Für Videos Eberhard Wolff oder Lisa Maria Moritz und die jeweiligen Interviewten

Für Sketchnotes Lisa Maria Moritz